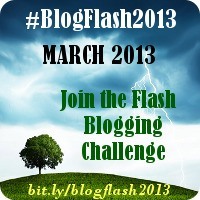 For some unknown reason – oh wait, it's procrastination! – I have decided to try my hand at the
2013 Flash Blogging Challenge
. Here are the rules:
Challenge begins March 1st (tomorrow) and goes through the entire month
There is a list of topics, designated for each weekday in March (total of 21 topics)
Blog posts need to be on-topic and between 50-100 words
Of course, I make no promises as to the quality of my "flash" blog posts. Regardless, who's in?