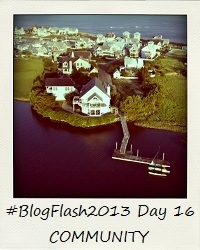 Being part of a community means being able to rely on the support and friendship of that community, but it also means accepting the rules of a community and shouldering the necessary responsibilities. The wonders of the World Wide Web have linked us all into what is now called a global community, allowing us to 'meet' and communicate with people from all over the world, whom we may not have otherwise encountered. Our interactions through BlogFlash2013 are a perfect example of this phenomenon.
Virtual communities allow people to change their own lives, those of others in the community, or those of strangers. They allow grassroots efforts to spring forth with more vigor and be more effective.
---
On that note, I'd like to share a nascent community writing project to which I am very excited to contribute when the time comes—and I hope you will consider doing the same!
Scripting Change
aims to bring together writers for a zero-cost project that will raise and donate funds for deserving causes, while offering writers exposure for their work.