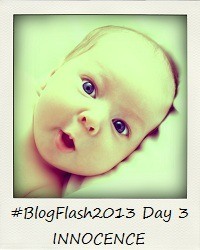 As a romance writer, I deal with a very different kind of innocence than this #BlogFlash2013 image portrays.
Sexual innocence is an especially complex topic nowadays. Mixed messages are sent to and about women – a girl who has sex is promiscuous or adventurous; one who doesn't is prudish or virtuous.
Media addressing this topic of abstaining from premarital sex frequently have the heroine "slip" – have sex – and then "re-virginize", which I find deplorable, as it teaches either that it is impossible to remain a virgin by choice regardless of one's convictions, or that, once one has sex, amends must be made.