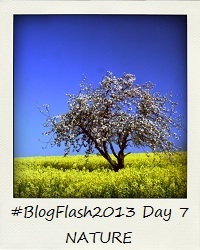 Sometimes a character says it best, so for today's prompt, a short excerpt from an unfinished manuscript:
---
"You would work better if you let nature in where you worked, like you do elsewhere in your home. Sunlight streaming through the windows, perhaps a butterfly or two flitting past..." Alexandra's face lit up as she described it. "Nature is pure inspiration. How much closer can you get to ultimate motivation than the universe, the ideas that created it?"
...
"All great ideas have come while someone was out in nature: Newton understood gravity while outside, and wise prophets are still talked about as meeting people on a hill under a tree. If you simply let yourself feel nature as you worked, you would probably suffer fewer 'writer's blocks' as you call them."